Uxbridge High Street to Denham - GWR West London Branch line
Just two and a quarter miles long the line from Uxbridge High Street to Denham was opened on 1st May 1907. Although proposed the connection between Uxbridge High Street and Uxbridge Vine Street was never made which restricted its usefulness for the already scarce amount of passengers. The line was disrupted during both World Wars with a period of closure between 1917 and 1919 as part of an economy drive and its final closure to the public on September 25th 1939. Freight continued to use the line right up to February 1964.

All photographs copyright artofthestate 2012
To order a hi-resolution copy of any of these photos click here (image reference LDN-UXBHDENH-1-4) and state image description.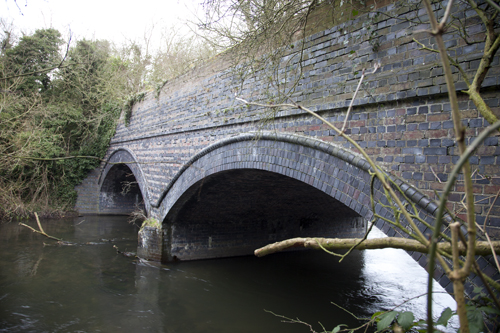 Uxbridge High Street to Denham disused railway line.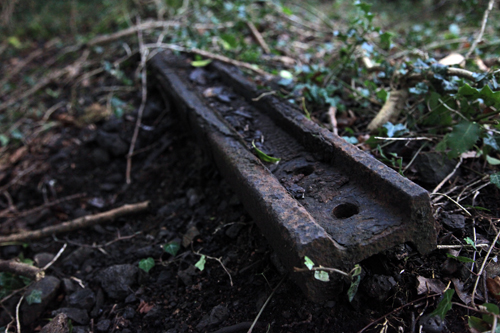 Still there, a section of rail rusting in the undergrowth on the embankment.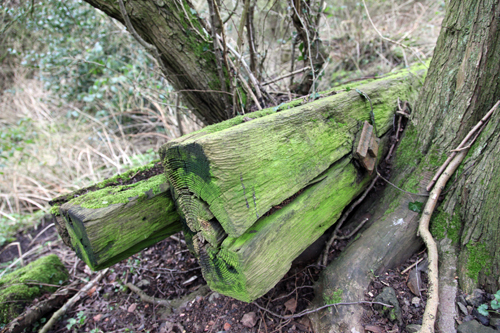 Old rotting rail sleepers intertwined in a tree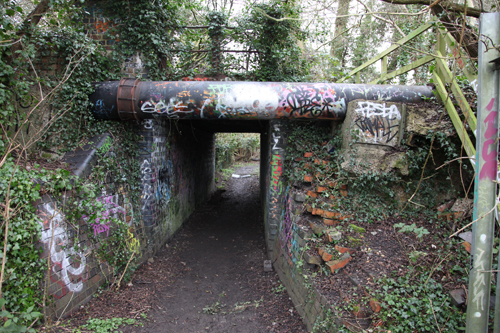 Pedestrian tunnel under the old embankment.
LONDON RAIL INDEX
London Underground
Brompton Road (disused)
Aldwych (disused)
Waterloo & City Line
Underground Pioneer (150 years)
Boston Manor Signal Box
Art Deco on the Underground
West London Branch lines
Staines to West Drayton
Southall to Brentford
West Drayton to Uxbridge
West Ealing to Greenford
Uxbridge High Street to Denham
Other Railway Relics
Slough to Windsor branch line
Maidenhead Boyne Hill station
Feltham Mashalling Yards
Feltham Station
Feltham Cavalry Tunnel
Richmond - old BR posters
Other London photos