West Drayton to Uxbridge Vine Street - GWR West London Branch line
Anyone living in Uxbridge, West London these days knows that there is a pretty tortuous railway route into the capital on the London Underground. Few know, however, that there used to be an alternative via a two and a half mile connection to West Drayton. Researching this article has taken me through some pretty dull housing and yielded very few gems because this particular line has been all but obliterated both in physical form and increasingly from memories.

Uxbridge used be connected to the GWR main line into Paddington via a small branch line to West Drayton station (which in itself was a well connected hub also being home to the West Drayton to Staines line). Originally opened in September 1856 it's Northern terminus Uxbridge Vine Street finally closed to passengers on the 10th September 1962 with freight operations ceasing two years later in 1964.

So what's left? Well the platform at West Drayton is now just a holding area for freight trains passing through and then theres...well, very little else. Cowley station is just a memory and elsewhere just a few echoes remain such as an oddly placed 'Station Road' and humps in streets where bridges have been filled in with earth to the point of all but disappearing. It's strange to think

Oddly enough while investigating one of the only remaining visible stretches of where the trackbed once was I found what must be London's smallest museum - a handful of objects in a cutting all related to Brunel.

Key facts and figures:

Distance from West Drayton: Cowley (1.5 miles) and Uxbridge Vine Street (2.5 miles).

Station Opening dates : West Drayton (June 1838), Cowley (10th January 1904) and Uxbridge Vine Street (September 1856). Uxbridge Vine Street was simply called Uxbridge until May 1957.

All stations with the exception of West Drayton closed in September 1962.

All photographs copyright artofthestate 2011 / 2013
To order a hi-resolution copy of any of these photos click here (image reference LDN-WESTUXBB-1-4) and state image description.
All photographs copyright artofthestate 2011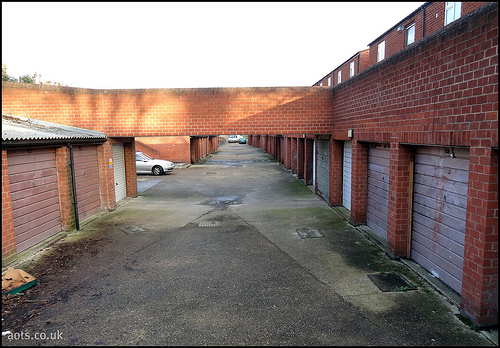 Remnants of the West Drayton to Uxbridge Vine Street branch line are few and far between and well hidden. This below ground level car parking to the flats above is actually utilising the trench that the railway cutting used to run through which explains its slightly odd design.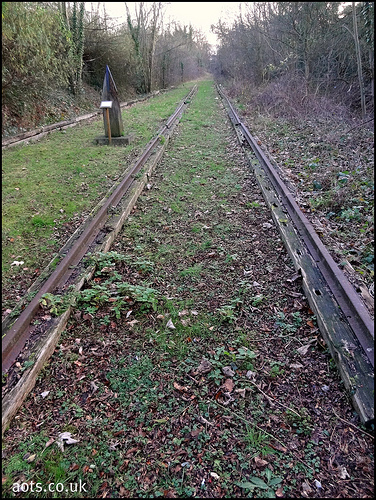 Here's another view of the cutting in one of the only stretches where you can see where the original trackbed was. This, however, isn't the original track - its a short section of unusual rails laid in what is now a nature reserve in the grounds of the Brunel University.
On the left of the picture above you can see a wooden pile. A nearby explanation reads 'This is one of the original oak piles, once metal tipped, which was used during the construction of SS Great Eastern to stop the ship from slipping into the River Thames'.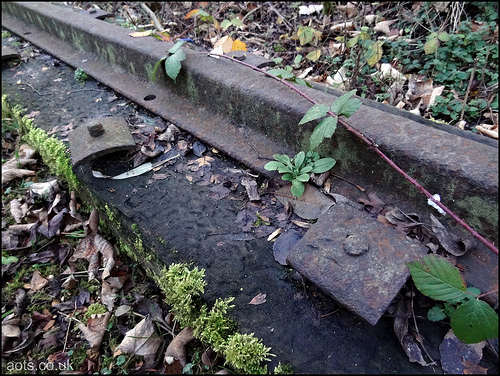 Detail of the track which shows what looks like some pretty crude fixings and rail heads.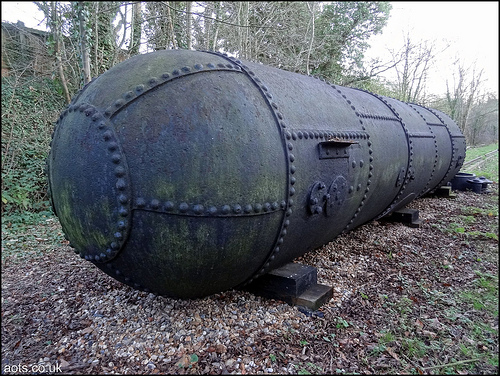 A nearby description explains 'This pressure vessel was used in part of a rig which was used by Brunel to impregnate railway sleepers with creosote to preserve the wood. When they were building the Hayes Bypass in Pump Lane this pressure vessel was discovered by workmen who originally thought they had discovered a Second World War unexploded bomb'.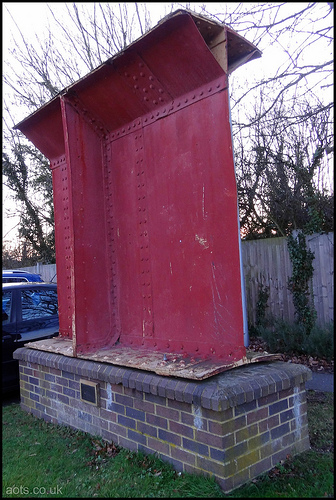 Part of a Brunel railway bridge girder that once graced the River Wye at Chepstow but now sits in the car park at Brunel University.
LONDON RAIL INDEX
London Underground
Brompton Road (disused)
Aldwych (disused)
Waterloo & City Line
Underground Pioneer (150 years)
Boston Manor Signal Box
Art Deco on the Underground
West London Branch lines
Staines to West Drayton
Southall to Brentford
West Drayton to Uxbridge
West Ealing to Greenford
Uxbridge High Street to Denham
Other Railway Relics
Slough to Windsor branch line
Maidenhead Boyne Hill station
Feltham Mashalling Yards
Feltham Station
Feltham Cavalry Tunnel
Richmond - old BR posters
Other London photos