Staines West to West Drayton - GWR West London Branch line
In what is now a heavily populated West London there used to be four branch lines operated by the Great Western Railway. One survives in full but the others have been closed, and by and large ripped up and demolished.

Gone are the lines connecting Brentford Docks to Southall, West Drayton to Uxbridge Vine Street and the subject of this article the Staines to West Drayton line. Hang on though, surely Staines still has a station? Yes it does but it used to have two....

Both the GWR and the Southern Railway had quite separate stations in Staines at one time. Oddly enough the simple distinction between the two was only made very late in the day in 1949 when the GWR's one was renamed from simply Staines to Staines West prior to its closure.

The line originally opened on the 9th August 1884 when the first passenger trains only traveled from West Drayton to Colnbrook. The connection to Staines opened a year later on the 2nd November 1885 with the tiny Poyle Estate Halt (the platform was only one coach length), Stanwell Moor and Yeoveny sitting inbetween. Yeoveney itself was tiny - the platform was only 20 feet long!

During the Second World War a connecting spur was installed which meant the ex GWR lines could link up with the Staines to Windsor line but this was subsequently removed in 1959.

The six and half miles of line finally closed to passengers on the 29th March 1965 but some of it is still in use to freight services today and in many places track and a few buildings remain.

Key facts and figures:

Distance from West Drayton: Colnbrook Estate Halt (2.5 miles), Colnbrook (3 miles), Poyle Estate Halt (3.25 miles), Poyle Halt for Stanwell Moor (3.75 miles), Yeoveney (5.25 miles) and Staines West (6.25 miles).

Station Opening dates : West Drayton (June 1838), Colnbrook Estate Halt (May 1961), Colnbrook (August 1884), Poyle Estate Halt (January 1954), Poyle Halt For Stanwell Moor (June 1927), Yeoveney (March 1892) and Staines West (November 1885)

All stations with the exception of West Drayton closed in March 1965.

All photographs copyright artofthestate 2011
To order a hi-resolution copy of any of these photos click here (image reference LDN-STAINWST-1-4) and state image description.
All photographs copyright artofthestate 2011 / 2013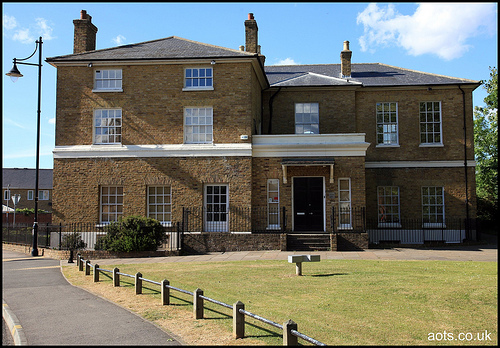 Staines West station was originally a private residence that was converted into a station. After closure it remained semi derelict for 11 years before being redeveloped into office space.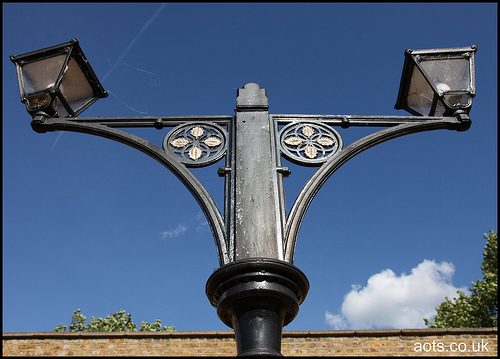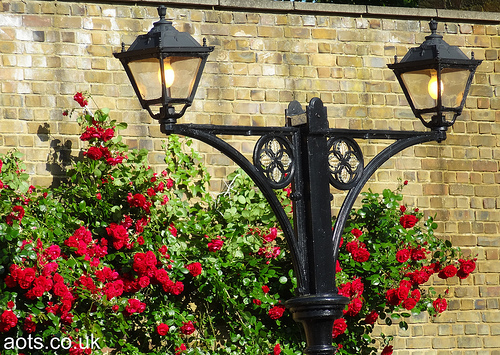 Around the back of the building are clues to its past. Lamps that once lined the platform are now in the car park whilst a set of buffers and a short piece of track hint at its previous use.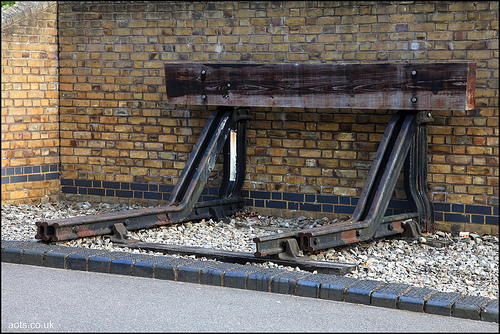 Heading out of Staines much of the track remains in place slowly rotting and rusting away. This is the point where it runs alongside the line to Windsor and Eton before branching off.
There are still a few trackside elements in place such as this old ground signal.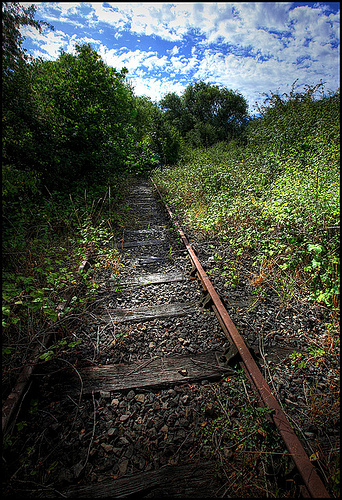 The track still remains in places north of Staines.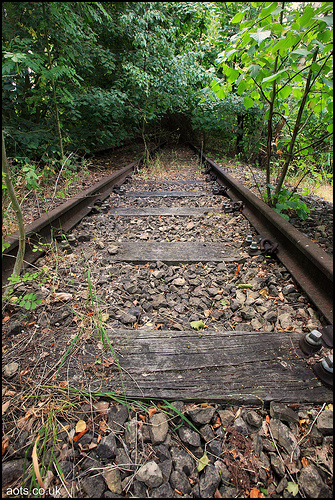 Heavily overgrown its now only really accessible when the vegetation dies down in Winter.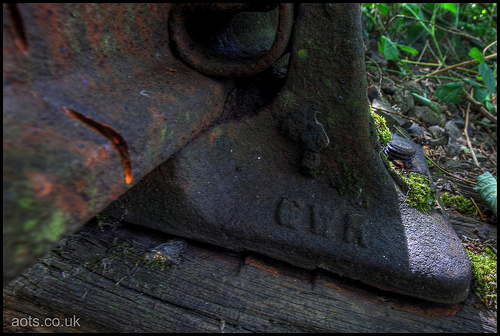 If you look hard enough you can still see clues that the line used to be operated by the GWR.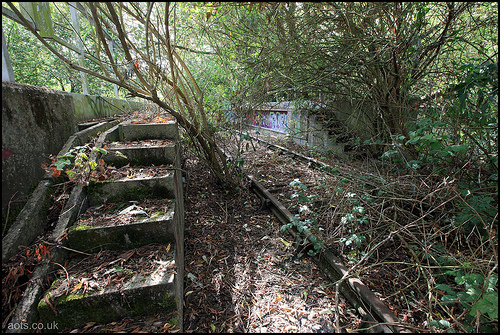 Elsewhere other structures carrying the railway survive.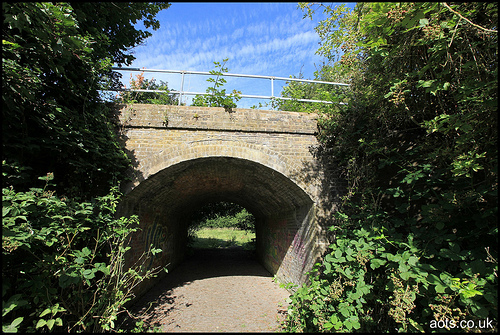 Heading North here are still railway structures present such as this railway bridge on Stanwell Moor. All traces of the railway disappear for a while shortly after here as they were removed to make way for the M25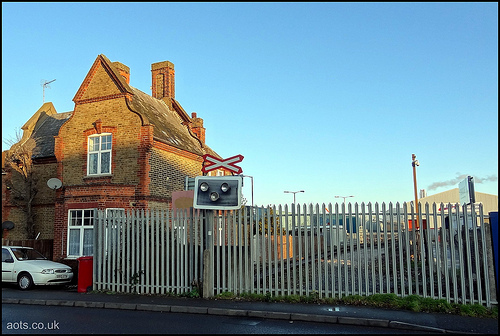 It reappears around Colnbrook where the Station Masters House marks the new end of the line. At this point the railway used to run directly across the road, hence the level crossing markers oddly still in place.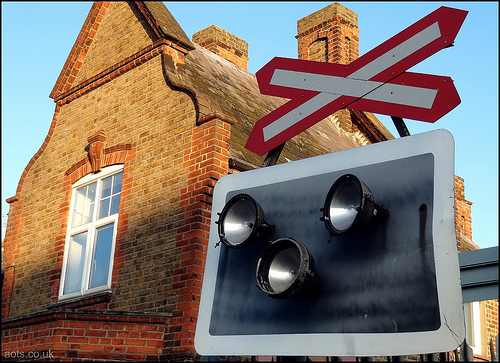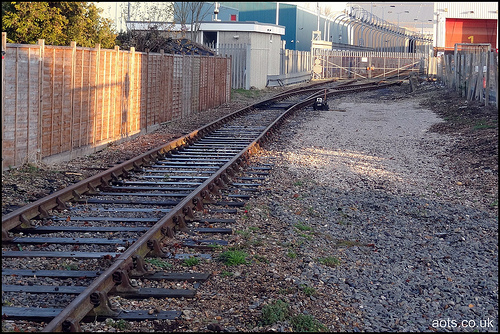 The line used to be a double here but one set of tracks have been removed on the right.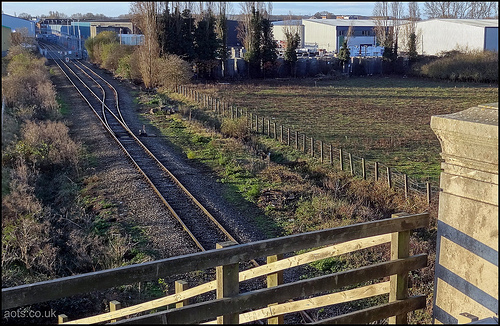 The line is now used just for freight and services industry in the Coln Brook area such as London Concrete.
Looking up the line from the Colnbrook Bypass it's a bit of a stretch to imagine steam hauled passenger services using this route.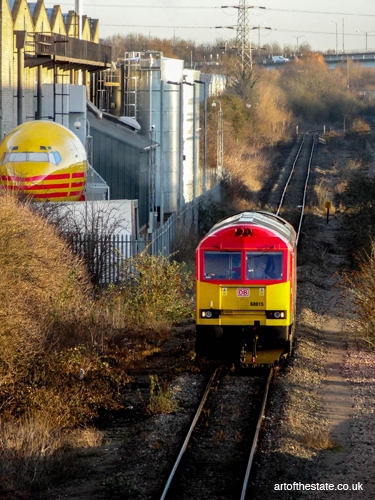 Diesel engine waiting in the sidings by London Concrete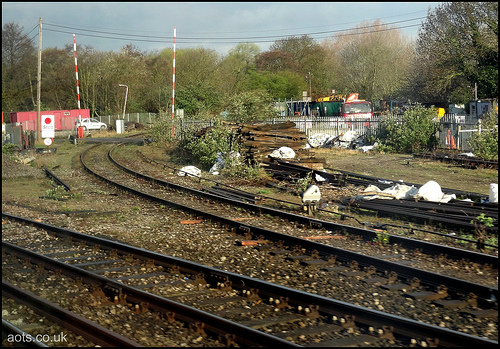 West Drayton - where the line joins the main line route into London Paddington
LONDON RAIL INDEX
London Underground
Brompton Road (disused)
Aldwych (disused)
Waterloo & City Line
Underground Pioneer (150 years)
Boston Manor Signal Box
Art Deco on the Underground
West London Branch lines
Staines to West Drayton
Southall to Brentford
West Drayton to Uxbridge
West Ealing to Greenford
Uxbridge High Street to Denham
Other Railway Relics
Slough to Windsor branch line
Maidenhead Boyne Hill station
Feltham Mashalling Yards
Feltham Station
Feltham Cavalry Tunnel
Richmond - old BR posters
Other London photos