Waterloo and City Line
Some lesser spotted parts of the Waterloo and City Line.
To order a hi-resolution copy of any of these photos click here (image reference LDN-WATCITYL-1) and state image purpose.
All photographs copyright artofthestate 2011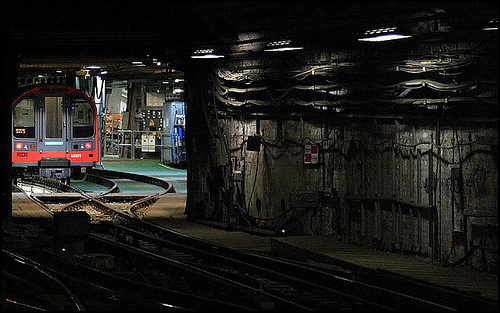 The Waterloo and City Line Depot. The railway has no connection to any other Underground service so trains are serviced in situ in a Depot at the Waterloo end of the line.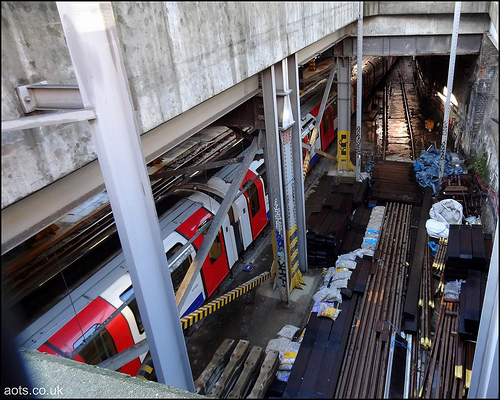 Waterloo and City Line - Carriage entrance. This is of relatively recent construction. Carriages used to be lowered in near where the disused Eurostar platforms are located.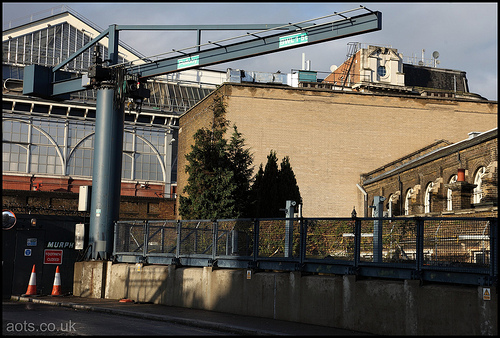 Waterloo and City Line crane in Spur Road - but this one is not for lifting carriages in and out of depot below, road cranes with significantly more lifting capacity are used for this purpose.
LONDON RAIL INDEX
London Underground
Brompton Road (disused)
Aldwych (disused)
Waterloo & City Line
Underground Pioneer (150 years)
Boston Manor Signal Box
Art Deco on the Underground
West London Branch lines
Staines to West Drayton
Southall to Brentford
West Drayton to Uxbridge
West Ealing to Greenford
Uxbridge High Street to Denham
Other Railway Relics
Slough to Windsor branch line
Maidenhead Boyne Hill station
Feltham Mashalling Yards
Feltham Station
Feltham Cavalry Tunnel
Richmond - old BR posters
Other London photos