Textura - Valencia Street Art book by Luz A Martin. (Mark Batty Publishing, ISBN 978 0982075463, RRP £25.00). Size: 25.6 x 21.2 x 2.4 cm, 144 pages
Valencia is a city with street art that easily merits its own book. Escif and Sam3 are probably the best known proponents featured in this look inside an urban area renowned for its light and colour. Their work documented here is, as ever, exceptional and justifies their international fame. Disappointingly, however, there are only another five artists covered in any detail and worse still all the artists are asked to answer the exact same five questions. While these reveal some insights into their work you can't help but feel more targeted questioning would have got more interesting responses. Street artists are a diverse bunch - motivations, methods and results vary infinitely - but a question of "what is the function of the tag in your graffiti" can only yield a few different answers.
The author to her credit explains much about the city of Valencia and its relationship to art and the book contains a pretty unique section which takes highly detailed shots of parts of street art on walls. Its a nice touch that gives you an understanding of the textures of the city's surfaces. You get the impression that Luz A Martin is first and foremost a photographer - the pictures are well composed and shot to a very high standard. There are around thirty pages which provide a whistle stop tour of other artists working in the city such as Rabodiga. These also highlight the gently decaying walls which are a pretty much perfect canvas to place thoughtful and artistic pieces on to. Ultimately this book is about the pictures rather than the words and although limited in number what there is has been captured beautifully.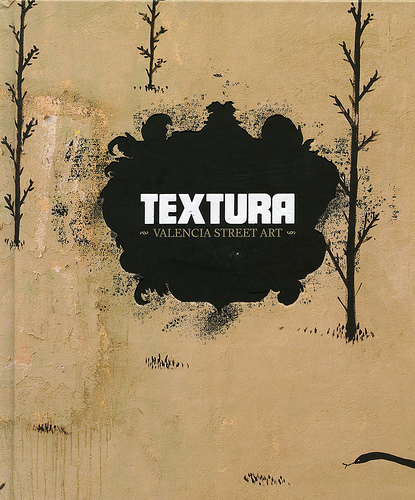 Textura - Valencia Street Art book
STREET ART GRAFFITI INDEX
Stencil graffiti
London 1 2 3 4 5 6 7 8 9 10 11
Bristol 1 Brighton 1
Spray can graffiti
1 2 3 4 5 6 7
Stickers 1 2
Sculpture / Installs 1
Paste ups 1 2 3
Text graffiti 1 2
other graffiti images 1 2
Graffiti books 1
Graffiti DVD's 1
Featured artists
adam neate / arofish / banksy / dface / eine / faile / obey / invader / shok-1 / tlp / toasters / Full list