Graffiti New York book by Eric Felisbret DEAL CIA. (Mark Batty Publishing, ISBN 978 0810951464, RRP £19.99). Size: 23.9 x 21.8 x 2.8 cm, 340 pages
Subway Art for me has always been the definitive New York graffiti book. That said one accusation that could be leveled at this seminal publication was that it was heavy on pictures but light on words. Eric Felisbret's new weighty tome redresses this balance by exhaustively documenting the Big Apple scene in text but with the bonus of another mass of superb pictures.
First off the author runs us through a history lesson on the birth of Subway graffiti through to the Transit Authority's systematic clampdown which saw graffiti removed from trains line by line. Victory was declared by the city in the war against the vandals when it became obvious no subway cars with graffiti on would be allowed to run on the network. Some still hit the system to this day but the removal of this electrified playground sparked a new wave of graffiti in the streets and basketball courts of the city.
Felisbret gets right inside the scene by directly interviewing many of the main protagonists. Their replies are refreshingly honest with tales of inter crew rivalry spilling over into violence and robbery and every attempt by the authorities to stamp them out rebutted by an art form that refused to be contained. Amazingly even the police officers in charge of the crackdown also get their stories told in one of the most fascinating sections. They reveal that some writers would grass up the movements of other writers to ensure a quiet night painting in the yards...but no names.
For both die hard old school writers and surprisingly those new to the scene there's plenty in this book to entertain. Old timers will enjoy the likes of Blade and Cope 2 giving their version of events whilst those just curious about graffiti will find it an invaluable primer on the history, terminology and the codes (should you wish to learn them) of graffiti.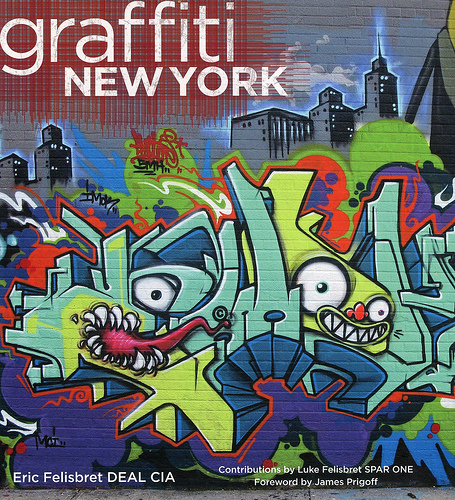 Graffiti New York Book
STREET ART GRAFFITI INDEX
Stencil graffiti
London 1 2 3 4 5 6 7 8 9 10 11
Bristol 1 Brighton 1
Spray can graffiti
1 2 3 4 5 6 7
Stickers 1 2
Sculpture / Installs 1
Paste ups 1 2 3
Text graffiti 1 2
other graffiti images 1 2
Graffiti books 1
Graffiti DVD's 1
Featured artists
adam neate / arofish / banksy / dface / eine / faile / obey / invader / shok-1 / tlp / toasters / Full list