UK Hardcore punk gig flyers
Flyers I produced for punk / hardcore /metal gigs I put on in the mid to late eighties at various venues including Fulham Greyhound, Finsbury Park George Robey and Wimbledon William Morris Club.
Please do not reproduce elsewhere without permission. It's fine to save copies for your own personal use.
All flyers remain copyright artofthestate 2013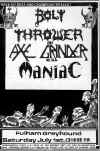 Bands featured include:

Anathema
Atavistic
Axegrinder
Bolt Thrower
Capital Gain
Chaos UK
Culture Shock
Cygnet Committee
Decadence Within
Deface the Nation
Depth Charge
Deviated Instinct
Doom
Drudge
Error Of Judgement
Exit Condition
Fungus
HDQ
Heibel (Belgium)
Heresy
Instigators
Intensive Care
Karma Sutra
Lärm (Holland)
Legion Of Parasites
Maniac
Max Penalty
Mind Grind
Napalm Death
Negazione (Italy)
NV Boys (Holland)
Oi Polloi
Pandemia
Penta-Mania
Prophecy Of Doom
Real Molesworth Dirt
Ripcord
Shrapnel
Slaughter Of The Innocent
Surf Weasel
Throbs
Wat Tyler