BURNING BRITAIN - UK punk book
The definitive and exhaustive (400 pages, dozens of never seen before photos) guide to the UK punk scene between 1980 and 1984.
You can order this book from Amazon for 10.49 instead of its normal retail price of 14.99.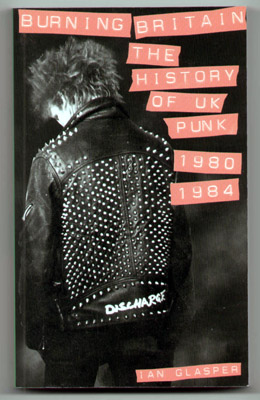 Burning Britain UK PUNK Scene Book
Punk / Oi! Bands Featured in Burning Britain:

THE SOUTHWEST: Vice Squad, Chaotic Dischord, Sex Aids, Dead Katss, Disorder, Chaos UK, Court Martial, Lunatic Fringe, The Undead, Demob and the Screaming Dead.

THE MIDLANDS: GBH, Dead Wretched, Drongos For Europe, Cadaverous Clan, Sensa Yuma, The Stench, The Varukers and The Samples.

THE NORTHWEST: Blitz, Attak, The Violators, Mayhem, Blitzkrieg, The Insane, The Fits, One Way System, Instant Agony, Newtown Neurotics, Anti Establishment, Chron Gen and UK Decay.

LONDON: UK Subs, The Wall, The Dark, Action Pact, Dead Mans Shadow, Erazerhead, The Straps, The Gonads, Cockney Rejects, The Business, The 4 Skins and The Ejected.

THE SOUTH: Anti Nowhere League, Peter And The Test Tube Babies, Ad Nauseam, Cult Maniax and Butcher

WALES: The Partisans, Picture Frame Seduction, Soldier Dolls and Foreign Legion.

NORTHERN IRELAND: The Defects and The Outcasts.

SCOTLAND: The Exploited, External Menace, Threats, Anti-Social, Bayonet Babies, The Skroteez, Ugen Kampf, Barbed Wire and Chaotic Youth.

THE LABELS: Riot City, No Future, Clay, Beat The System and Captain Oi.

Also features Punk Lives Magazine, Holidays In The Sun punk festivals and punk websites!