Trespass. A History of Uncommissioned Urban Art book by Carlo McCormick, Marc and Sara Schiller, Ethel Seno. Hardcover, 150 artists. Taschen ISBN 978 3 8365 0964 0, RRP £27.99). Size: 23.5 x 32, 320 pages.
First things first - this a weighty tome. Much larger than your average Street Art offering this voluminous book is as chock full of quality pictures as it is heavy. The basic concept of the book is summed up neatly in the title 'Trespass. A History of Uncommisioned Urban Art'. While co-authors Marc and Sara Schiller are best known for their Wooster Collective Street Art blog the subject matter of this book goes far beyond that subculture to include pretty much any unauthorised work in our urban areas. It's a wide ranging subject and covers a lengthy period of time so there are other people with major involvement in pulling everything together. Taschen's Ethel Seno worked as editor and Carlo McCormick (Beautiful Losers) provided many of the words. There are very different styles at play in the text. Banksy has supplied a typically direct, short and sweet introduction which makes its point and then gets out of the way. The Schiller's preface is similarly on the money but some of the other writing is nowhere near as accessible to your average reader. It very much intellectualises work which in some cases doesn't justify it. Some street actions covered, you would hope, should not be seen first as as art but as non violent direct action protest.

It's refreshing to see the images from over 150 artists on around 300 pages given the freedom to fill the large format. Too many books try to cram too many pictures into small pages where they often lose their impact as well as their context. There's more than enough for fans of street art including work by JR, Sam3, Above, Shepard Fairey, Faile, D*Face, Swoon, Ben Eine, Cutup, Zevs, Ron English, The London Police, Os Gemeos and more. Pictures are usefully labeled with their location and dates and this is often backed up by artists notes which further explain the pieces. Some works are purely performance art - for example the use of twins sitting either side of a subway carriage by Improv Everywhere to create a human mirror is an amazing idea perfectly executed.

This book could have played it very safe by concentrating on street art from the past 10 years. Instead it chose to have a scope decades longer creating a series of common threads through these times. Despite the amazing variety of the acts of resistance depicted you sense that even though they are sometimes separated by oceans and seismic shifts in world politics the artists involved are working because of a very basic shared need to communicate to their communities.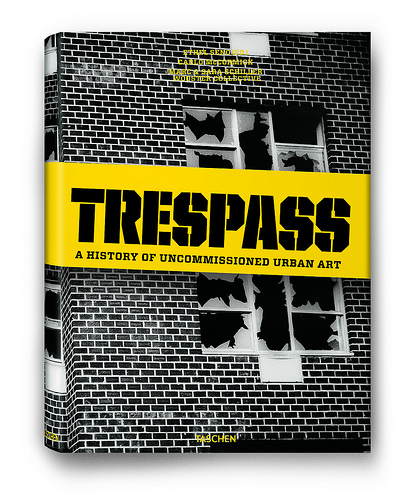 Trespass A History Of Uncommissioned Urban Art book
STREET ART GRAFFITI INDEX
Stencil graffiti
London 1 2 3 4 5 6 7 8 9 10 11
Bristol 1 Brighton 1
Spray can graffiti
1 2 3 4 5 6 7
Stickers 1 2
Sculpture / Installs 1
Paste ups 1 2 3
Text graffiti 1 2
other graffiti images 1 2
Graffiti books 1
Graffiti DVD's 1
Featured artists
adam neate / arofish / banksy / dface / eine / faile / obey / invader / shok-1 / tlp / toasters / Full list