Sweet Toof / Cyclops graffiti
Image 3 from a whole wall of Cyclops / Tek33 / Sweet Toof graffiti in a disused yard off Brick Lane.
The stenciled figure having its head bitten off was part of an advertising campaign using 'street art' to advertise a beer. A fitting ending.
All photographs copyright artofthestate 2007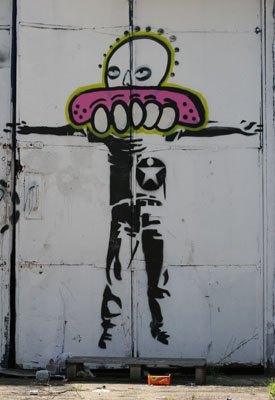 Sweet Toof / Cyclops graffiti , Brick Lane
STREET ART GRAFFITI INDEX
Stencil graffiti
London 1 2 3 4 5 6 7 8 9 10 11
Bristol 1 Brighton 1
Spray can graffiti
1 2 3 4 5 6 7
Stickers 1 2
Sculpture / Installs 1
Paste ups 1 2 3
Text graffiti 1 2
other graffiti images 1 2
Graffiti books 1
Graffiti DVD's 1
Featured artists
adam neate / arofish / banksy / dface / eine / faile / obey / invader / shok-1 / tlp / toasters / Full list
Street Art / Graffiti Shows
listings / pictures