Subway Art - 25th Anniversary Edition - Martha Cooper and Henry Chalfant (Thames and Hudson)
Back in 1984 photographers Martha Cooper and Henry Chalfant created this seminal pictorial record of illegal graffiti writers covering New York Subway cars. Ever since it has been an inspiration to practically anyone who has ever picked up a spray can to make their mark. The original edition has clocked sales of over half a million and this new large format edition can only add to that impressive tally.
There's an additional 70 photographs not featured in the original version along with new text explaining how the original Subway Art came together. What really sets this edition apart, however, is its size, At 42m high you might well need to raise the height of your bookshelf but that's a small price to pay for some simply superb photographs in stunning quality. Trains sneaking through the New York sunset are lit in golden tones whilst the portraits of the artists capture a time and place long since lost. It's both a time machine to the past and an ongoing inspiration to the present.
154 illustrations in colour, 128 pages.
ISBN 978-0-500-51454-2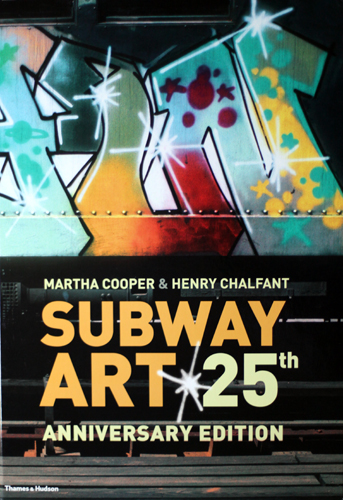 Subway Art 25th Anniversary Edition book
STREET ART GRAFFITI INDEX
Stencil graffiti
London 1 2 3 4 5 6 7 8 9 10 11
Bristol 1 Brighton 1
Spray can graffiti
1 2 3 4 5 6 7
Stickers 1 2
Sculpture / Installs 1
Paste ups 1 2 3
Text graffiti 1 2
other graffiti images 1 2
Graffiti books 1
Graffiti DVD's 1
Featured artists
adam neate / arofish / banksy / dface / eine / faile / obey / invader / shok-1 / tlp / toasters / Full list