Los Angeles Graffiti book by Roger Gastman. (Mark Batty Publishing, ISBN 978 0979 048616, RRP £16.95) Size: 28.2 x 21.6 x 1.5 cm, 128 pages
There's not much text in this book - there's a quick introduction from Roger Gastman followed by an interview with Power of Can Control magazine - a guy with many 'firsts' in the history of graffiti publishing. The rest of the book is just photos, pure and simple (all the captions, credits are detailed in the back of the book. So where this books stands or falls is in the quality of these pictures. For me, though, they are often not up to the mark in terms of quality. It's fine to have pretty rough photos in a book if they are taken in a hurry in places where you haven't got the time to get things right but a lot of the walls in here are obviously painted in spots where it would be pretty simple to get a decent shot. Maybe the pictures were taken a long time ago before the advent of cheap, good quality digital cameras. I don't know, there are no dates attributed to the work featured. It's a shame because when a books features artists like Revok and Saber the pieces featured deserve better.
Still, that said, the book does exactly what it says on the cover....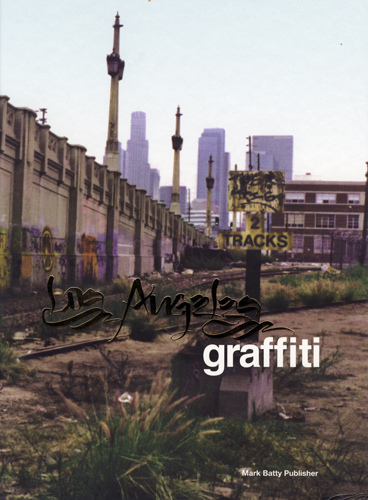 Los Angeles Graffiti book
STREET ART GRAFFITI INDEX
Stencil graffiti
London 1 2 3 4 5 6 7 8 9 10 11
Bristol 1 Brighton 1
Spray can graffiti
1 2 3 4 5 6 7
Stickers 1 2
Sculpture / Installs 1
Paste ups 1 2 3
Text graffiti 1 2
other graffiti images 1 2
Graffiti books 1
Graffiti DVD's 1
Featured artists
adam neate / arofish / banksy / dface / eine / faile / obey / invader / shok-1 / tlp / toasters / Full list