Left London Book - William Eckersley and Alexander Shields
Tucked away in London are a wealth of fascinating buildings only visible to security guards and the occasional enterprising photographer. They represent moments lost in time and through gentle decay or violent destruction their often mundane surroundings take on new meanings.
Left London documents many such places in simple stark photographs. William Eckersley and Alexander Shields spent a year documenting the forgotten industrial complexes, transport depots, health centres and sports facilities that meant so much to people when they were closed. Over 170 pages the buildings are again explored and the photographs in this large format book cover them from landscape view to the smallest detail of a sex offenders registration form. Locations include the Tram Tunnel under Holborn and the Hornsey Road Baths in Holloway.
More information can be found at leftlondon.co.uk
ISBN 0-9553143-0-5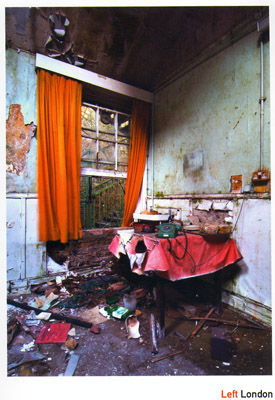 Left London Book
STREET ART GRAFFITI INDEX
Stencil graffiti
London 1 2 3 4 5 6 7 8 9 10 11
Bristol 1 Brighton 1
Spray can graffiti
1 2 3 4 5 6 7
Stickers 1 2
Sculpture / Installs 1
Paste ups 1 2 3
Text graffiti 1 2
other graffiti images 1 2
Graffiti books 1
Graffiti DVD's 1
Featured artists
adam neate / arofish / banksy / dface / eine / faile / obey / invader / shok-1 / tlp / toasters / Full list