Faile / Obey / Banksy?
For years this spot was the home of Banksy's reworking of Pulp Fiction. Then it became a kind of free for all location. At the back end of May 2006 Faile and Obey reworked the site with posters over which was written 'Banksy Was Here' in pink paint by the TDO crew. As someone pointed out - the same colour pink paint to be found in Faile's signature on the previous page and the recent Banksy pieces in Tottenham Court Road etc?
All photographs copyright artofthestate 2006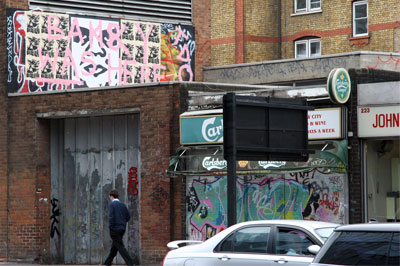 Faile / Obey / Banksy / TDO?
STREET ART GRAFFITI INDEX
Stencil graffiti
London 1 2 3 4 5 6 7 8 9 10 11
Bristol 1 Brighton 1
Spray can graffiti
1 2 3 4 5 6 7
Stickers 1 2
Sculpture / Installs 1
Paste ups 1 2 3
Text graffiti 1 2
other graffiti images 1 2
Graffiti books 1
Graffiti DVD's 1
Featured artists
adam neate / arofish / banksy / dface / eine / faile / obey / invader / shok-1 / tlp / toasters / Full list