Bay Area Graffiti book by Steve Rotman and Chris Brennan. (Mark Batty Publishing, ISBN 978 0979 966606, RRP £24.95) Size: 29.5 x 23.6 x 2.5 cm, 208 pages
There's a million graffiti books out there so why does this one covering yet another part of America warrant your attention (not to mention your cash)? Because, quite simply, its excellent. Most excellent in fact. It's excellent in a way that very few books in this genre achieve. Maybe it's the light in San Francisco that gives the pictures in this largish format book their punch. They're certainly sharp and colourful and are selected from a period of four years when the photographer spent up to seven days a week capturing every bit of graffiti he could find. He may be suffering from an obsessive compulsive disorder but quite frankly that's his problem and our gain. Thousands of flicks didn't make the cut so what is in here is quality distilled down to a select few hundred. The whole book is laid out with a love of design and care rarely seen too. Some of the graffiti is organised not into styles or writers but into the surfaces they are painted on to so there are spreads devoted to vans, tunnels, doors, abandoned buildings and coaches but oddly no rail transit vehicles. I've never been to SF so maybe they just don't exist (but empty tracks do feature in here).
Short interviews with writers are interspersed with stunning pictures of work that sometimes takes three seconds to complete to pieces that must span several days. It reads like a best of graffiti pictures on Flickr but its actually only one area and one photographer. That's pretty insane.
Did I mention that this book is excellent? Yes, I think I probably did.

Featuring Abno, Adek, Dersk, Bely, Buter, Pastime, Apex, Ashes, Ribity, Cake87, Chek, Chez, Chue, Cymes, Atari, Gory, Doper, Hero, Adios, Destin, Gator, Gena, Fword, Mine, Goser, Chubs, Harsh, Gusto, Keep, Jeloe, Jenks, Naka, Kem, Lost, Natrl, Osker, Nekst, Klevr, Panda Sex, Nesta, Orfn, Kode, Plantrees, Pez, Remio, Renos, Sager, Rome, Silencer, Hyper, Korea, Tunks, Reyes, Tenfold, Germs, Vizie, Zel, Twick, Norm, Steel and Zeros.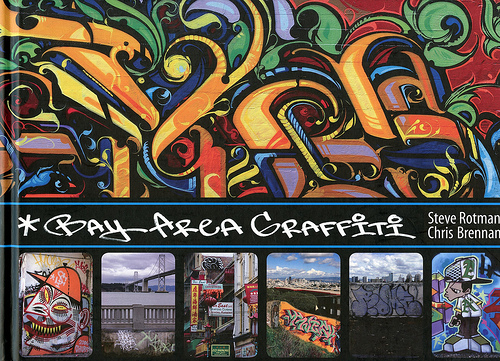 Bay Area Graffiti book
STREET ART GRAFFITI INDEX
Stencil graffiti
London 1 2 3 4 5 6 7 8 9 10 11
Bristol 1 Brighton 1
Spray can graffiti
1 2 3 4 5 6 7
Stickers 1 2
Sculpture / Installs 1
Paste ups 1 2 3
Text graffiti 1 2
other graffiti images 1 2
Graffiti books 1
Graffiti DVD's 1
Featured artists
adam neate / arofish / banksy / dface / eine / faile / obey / invader / shok-1 / tlp / toasters / Full list
Street Art / Graffiti Shows
listings / pictures