Banksy's Bristol Home Sweet Home An Unofficial Guide book, Steve Wright (Tangent Books) 112pp, full colour, 225mm x 225mm
ISBN: 9781906477004
This book is very much placed in Banksy's home city of Bristol which has long been a vibrant source of alternative culture to the world. Steve Wright has tracked down and interviewed many of its residents whose paths have crossed with Banksy. The result is an unprecedented understanding of the influences, time and places of Banksy's formative graffiti years in the city and return visits in more recent times. There's a stunning array of never seen before photos along with the stories behind some of the more familiar pieces. There's even a section entitled 'Who Is Banksy' but don't sweat - it seems the more information there is on this the less you can actually be certain just who he is.
Available direct from the publishers: Tangent Books
Publishers press release: "Home Sweet Home is a celebration of Banksy's street art in his home city of Bristol. This book places him in the context of 3D, John Nation from the Barton Hill Settlement, Inkie, Nick Walker and the other artists and musicians who were instrumental in linking Bristol to the original New York hip hop scene.


It is the most revealing account of Banksy's formative years and contains more than one hundred images of his Bristol art, as well as pictures of Banksy at work, many of which have never been published before.


Steve Wright, Venue magazine's Art Editor, traces Banksy's roots back to the rave culture of the Nineties and draws a rounded picture of an artist who is most famous for being anonymous".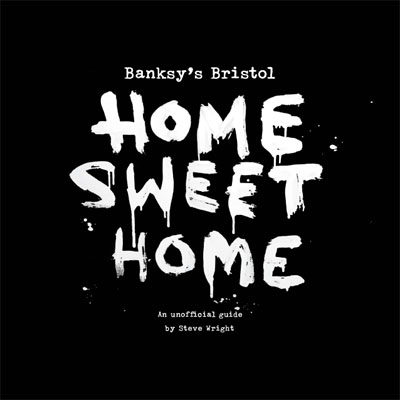 Banksy's Bristol Home Sweet Home Book by Steve Wright
STREET ART GRAFFITI INDEX
Stencil graffiti
London 1 2 3 4 5 6 7 8 9 10 11
Bristol 1 Brighton 1
Spray can graffiti
1 2 3 4 5 6 7
Stickers 1 2
Sculpture / Installs 1
Paste ups 1 2 3
Text graffiti 1 2
other graffiti images 1 2
Graffiti books 1
Graffiti DVD's 1
Featured artists
adam neate / arofish / banksy / dface / eine / faile / obey / invader / shok-1 / tlp / toasters / Full list
Street Art / Graffiti Shows
listings / pictures