Aerosol Planet Volume 3 DVD.
Aerosol Planet Volume 3 DVD (£14.00, plus £1.50 postage in the UK)
Featuring:
Graphotism and sleeping giants jam - 250 worldwide writers including the Montana Team: Can2, Smash, Atom, Kent, Blade NYC, Sever, Revok, Rime, Askew, Insa, Astek, Inkie, NT, Snug, Chu, Brave, Casrock and 100's more.
Write for gold UK / Aerosolics event: Seak, Smash, Maclaim, Xenz, Wow123, Wordplay, Icons, Wany1, DDS, Bleach, Klit, Inkie, Tizer, Love Pusher.
Connor Harrington show.
Astek Show at Best
Pieces show at Essex University: Cel, Dark Daze, Martha Cooper, Steam, Third decade crew, Wildeye.
Hype show, Elms Lester Painting Rooms: Delta, Adam Neate, Space Invader, Dalek and Andrew McAtee.
Words from the legend that is Jim Prigoff - co author of Spraycan Art.
VOP show at 198 Gallery - Solo One and Dane
In depth interviews with Jon156, Amour and Psyckoze.
Kosmopolite festival 2005/6 Paris: Zedz, Ces, Great, Bates, Sharp, Mirk, Loomit, Jayone, Dum Crew, Mask, PartOne, Dash, Doc plus loads more.
Kosmo-comix show Paris: Lazoo, El Diablo, DIKEUS, JuCdm.
Paris walls and halls of fame: action from Yoda, Woshe, Boher, Brok, Mirk, Exho, Moze, Dixa, Tran, Nasty, Slice, Lady K, Pest, Vision, Alex, P19, MAC, 156, BBC, Arm, Darco, Lazoo, Grim Team, Shadow, Pener, Rest, Obey
Destruction of Paris...street action, Trucks and Motorways.
Running time: 2 hours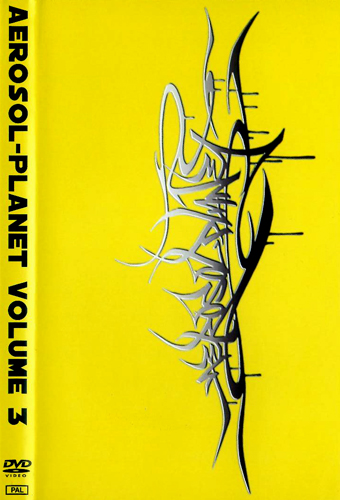 Aerosol Planet Volume 3 DVD
STREET ART GRAFFITI INDEX
Stencil graffiti
London 1 2 3 4 5 6 7 8 9 10 11
Bristol 1 Brighton 1
Spray can graffiti
1 2 3 4 5 6 7
Stickers 1 2
Sculpture / Installs 1
Paste ups 1 2 3
Text graffiti 1 2
other graffiti images 1 2
Graffiti books 1
Graffiti DVD's 1
Featured artists
adam neate / arofish / banksy / dface / eine / faile / obey / invader / shok-1 / tlp / toasters / Full list
Street Art / Graffiti Shows
listings / pictures