Aerosol Planet Volume 1 DVD.
Aerosol Planet Volume 1 (£14.00, plus £1.50 postage in the UK)
(no longer available)
Featuring raw footage from many of London's most famous halls of fame and writers. There's a mass of great work all shot cleanly with a soundtrack mixed by DJ Junk.
Inside there's rare footage from shows such as the Zedz and Seen shows in Paddington's short lived Outside Institute along with footage of Seen working outside.
It does exactly what it says on the box...great work!
available from aerosolplanet.com
Hall of Fame action from Westbourne Park, Tottenham, Deptford Bridge, Pigs Lane, The Crack House, Stonecot Hill, Lakeside, Dalston Kingsland.
London street action from Chrome & Black and Notting Hill Carnival 2005.
Live action from Rize and Mess, Seen NYC and NT, Brave & React.
Graffiti Jams - Jamemin 2, Booze & Crews and Brighton Jam: 120 writers.
Graffiti shows - Zeus at Riverside studios, Insa - Graffiti Fetish, Deep End Show with Dane, Solo & Inky Mole, Zedz at the Outside Institute, Jayone at Kemistry Gallery, British Graffiti Natural Selection, Seen NYC at the Outside Institute.
Art from Tizer, Dane, Solo, Stylo, Mear, Toxic, Busk, Skire, Rize, Zeus, Zedz, Brave, React, Insa, Astek, Crack 15, Lovepusher, Part2, Nylon and loads more.
Mixes by DJ Junk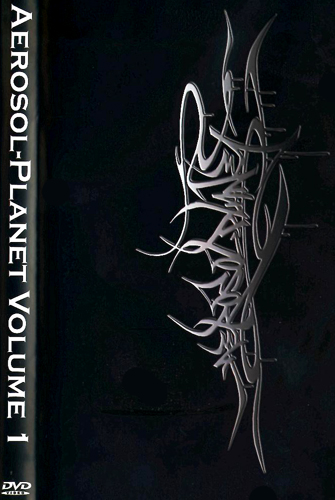 Aerosol Planet Volume 1 DVD
STREET ART GRAFFITI INDEX
Stencil graffiti
London 1 2 3 4 5 6 7 8 9 10 11
Bristol 1 Brighton 1
Spray can graffiti
1 2 3 4 5 6 7
Stickers 1 2
Sculpture / Installs 1
Paste ups 1 2 3
Text graffiti 1 2
other graffiti images 1 2
Graffiti books 1
Graffiti DVD's 1
Featured artists
adam neate / arofish / banksy / dface / eine / faile / obey / invader / shok-1 / tlp / toasters / Full list
Street Art / Graffiti Shows
listings / pictures