Banksy 'If Graffiti Changed Anything - It Would Be Illegal'
There's an old saying 'If Voting Changed Anything - It Would Be Illegal' and this latest banksy piece is a direct riff on that. Found in the the Fitzrovia district above Oxford Street in London and just round the corner from the Post Office Tower and a pretty large squat it first came to attention around the end of April 2011. A fully fledged Banksy rat had previously been a pretty rare sight in London for a few years before this one appeared (with the exception of one on the canal at Camden). This chap has paint all over its left paw and had put a print on the wall.
It was painted on a wall covered with flaking paint which would make it a tricky job to steal and more than likely will reduce its life expectancy.
And yes, real graffiti does have the power to effect change, however small - and it works best when its illegal....
STATUS: Still running but under perspex
photo: artofthestate.co.uk 2011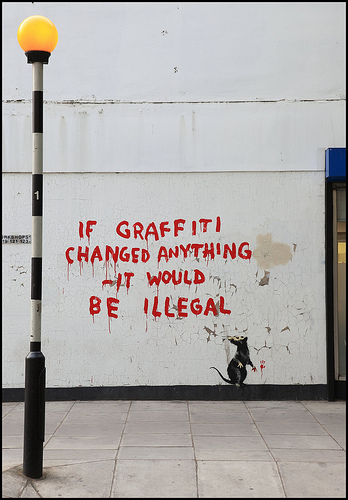 Banksy 'If Graffiti Changed Anything - It Would Be Illegal'
Banksy news - read the aots banksy blog
Banksy street work photo galleries
London 0 1 2 3 4 5 6 7 8 9 10
11 12 13 14 15 16 17
Bristol / Seaside
USA / Europe
Banksy off street photo galleries
Turf War 1 2 3 4
Crude Oils 1 2
Barely Legal 1 2
Cans Festival 1
Banksy versus Bristol Museum 1 2
Santa's Ghetto 2003 2004 2005 2006 2007 2010 - M&S
Other Banksy Exhibitions 1
Banksy film and videos
Exit Through The Gift Shop DVD and film
Banksy videos
Banksy prints
screen prints / photo prints
Banksy books
Banging / Exist / Cut It Out / Wall and Piece /
All Banksy Books
Official websites
Banksy.co.uk (the real deal)
picturesonwalls.com (prints)
pestcontroloffice.com (authentication)
Banksy - stuff for sale quick links




Banksy FAQ