Banksy book - Wall and Piece
Now out via Century / Random House this book breaks the mould of the first three Banksy books by being hardback, £20.00 (in every shop I've seen it in) and 192 pages long. It's an anthology of the material in the other three books plus some new work as well. I noticed that you can order it from Amazon for £12.00 which makes it a much more reasonable buy.
And here's the publishers blurb: "Artistic genius, political activist, painter and decorator, mythic legend or notorious graffiti artist? The work of Banksy is unmistakable, except maybe when it's squatting inthe Tate or New York's Metropolitan Museum. Banksy is responsible for decorating the streets, walls, bridges and zoos of towns and cites throughout the world. Witty and subversive, his stencils show monkeys with weapons of mass destruction, policeman with smiley faces, rats with drills and umbrellas. If you look hard enough you'll find your own. His statements, incitements, ironies and epigrams are by turns intelligent and cheeky comments on everything from the monarchy and capitalism to the war in Iraq and farm animals. His identity remains unknown, but his work is prolific. And now for the first time, he's putting together the best of his work – old and new in a fully illustrated colour volume"
Century • Popular culture • ISBN: 1844137864
Publication date: 03/11/2005 • 208 pages • A4 • EAN: 9781844137862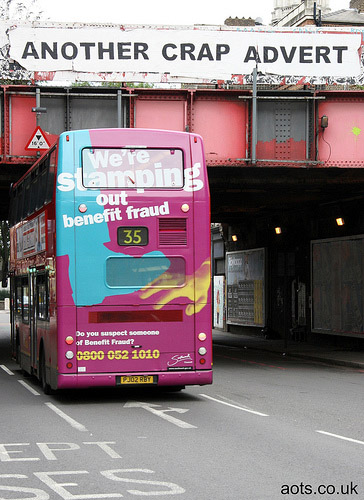 Banksy book - Wall and Piece - full of images better than this one.
Banksy news - read the aots banksy blog
Banksy street work photo galleries
London 0 1 2 3 4 5 6 7 8 9 10
11 12 13 14 15 16 17
Bristol / Seaside
USA / Europe
Banksy off street photo galleries
Turf War 1 2 3 4
Crude Oils 1 2
Barely Legal 1 2
Cans Festival 1
Banksy versus Bristol Museum 1 2
Santa's Ghetto 2003 2004 2005 2006 2007 2010 - M&S
Other Banksy Exhibitions 1
Banksy film and videos
Exit Through The Gift Shop DVD and film
Banksy videos
Banksy prints
screen prints / photo prints
Banksy books
Banging / Exist / Cut It Out / Wall and Piece /
All Banksy Books
Official websites
Banksy.co.uk (the real deal)
picturesonwalls.com (prints)
pestcontroloffice.com (authentication)
Banksy - stuff for sale quick links




Banksy FAQ